National Immunization Poster Contest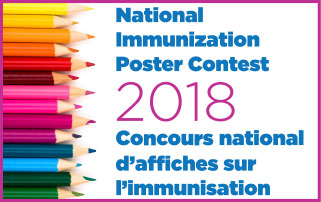 Every other year, Immunize Canada organizes a National Immunization Poster Contest, in conjunction with the Canadian Immunization Conference.
This contest provides Grade 6 students across Canada with an opportunity to submit works of art reflecting their ideas on immunization for good health. The winning posters are then reproduced and distributed in many formats.
The next poster contest will be held in the fall of 2018.
National Winners 2016
Provincial Winners 2016
(No entries were received from Yukon, the Northwest Territories, or from Nunavut for the 2016 Poster Contest.)
For Teachers
Teacher's Kit: Integrating immunization education into the Grade 6 curriculum
Provides teachers with resources and ideas organized by curriculum subject matter that may be used to preparing Grade 6 students with their poster contest entries.
Immunize Canada thanks the Ontario Institute for Studies in Education (OISE)
of the University of Toronto for reviewing this kit (revised in 2018).
(PDF: 7.9 MB)
Kids Boost Immunity: sample lessons
Resources for Students
Winning Posters from Past Contests
See the winning posters from the 2014 National Immunization Poster Contest.